News and Announcements
SAGUAR-e TLS came 2nd in the TUBİTAK Efficiency Challenge Electric Vehicle Race.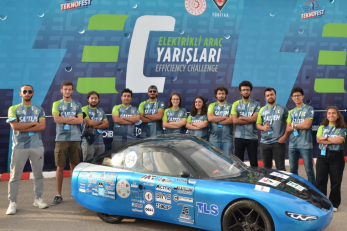 Sakarya University Advanced Technology Application Society (SAITEM), which is a technology application community consisting entirely of volunteer students, aiming to realize innovative projects in various technology fields, especially alternative energies, creating an environment for the training of qualified individuals, TUBITAK Efficiency Challenge Electric Vehicle Race. They placed 2nd. We are very happy to be able to support the work of young talents in this process and to have their vehicles take part in the competitions under the name SAGUAR-e TLS.
It is very pleasant for us to be a part of the excitement of being with all our young people who design vehicles with sustainable technological studies and will contribute to the technology of the future...
Today, it carries out many different projects under the roof of SAITEM. Some of those; Sakarya Solar Car (SAGUAR), Sakarya Hydro Mobile (SAHIMO), Sakarya Solar Boat (SATEK), Sakarya University Electric Car (EVRIM), Sakarya Low Altitude Test Satellite (SATU). The purpose of its establishment is to create a working environment for Sakarya University students for all projects that will transform theoretical knowledge into engineering products, especially projects that contribute to the task of using Turkey's energy potential effectively, reducing oil dependence and maintaining a comfortable life without harming the nature, and other students who can work in the same direction. with the aim of meeting on the same roof.
In the realized projects, intensive effort is spent on R&D and P&D studies. In this way, tools that can compete with world universities are being developed. In addition, thanks to the individual works carried out under sub-projects, entrepreneurship and innovation become a way of life for SAITEM members.
---